Details

Written by

Pastor Tobias

Category: Stories
Dear Friends in Christ,
What a strange and unusual time we are living in as individuals, as a world, and as the Church! It is a time of much turmoil, stress, and fear. Yet it may also be that this time, with Christ helping us through the power of the Holy Spirit, becomes a time of re-focusing on what really matters in life and for faith. In fact, I've already been seeing some of these focusing and refocusing efforts through:
People taking advantage of less running around to pray and think about their lives and this world and their priorities.
The mobilizing a 2x2 Ministry to connect the Redeemer community (coming soon!)
Bringing Redeemer overnight into the virtual ministry world and not giving up on improving the quality and fluency of these efforts (Last Sunday we improved sound with a different microphone and this Sunday we'll be on Zoom for worship instead of Google Meet - look for forthcoming instructions in our e-newletter!).
Connecting to wider community efforts to help our neighbors (see last week's newsletter, the bottom half of the invitation to Lenten Weds, and this week's e-newsletter as well)
Details

Written by

Redeemer

Category: Stories
Dear Brothers and Sisters of Redeemer New Paltz,
COVID-19 is causing disruption in every aspect of our modern lives, from health and daily routines, to work and economic stability, and to personal and group connectedness in our worship community.
We are in uncharted territory. As we strive for new and creative ways to worship and keep our congregation together, supported, and connected during these unusual times, we are reminded that God works in mysterious ways and that work never ceases. How can we continue to "Share Christ's Welcome" with our fellow congregants, friends, neighbors, remaining students, as well as those who may be in need?
Read more: Your Redeemer Offerings During the Time of COVID-19
Details

Written by

Pastor Tobias

Category: Stories
By now, all of us have been hearing (perhaps in super-saturated fashion) about Covid-19 and the accompanying concerns and problems this crisis is presenting for our communities and world. There is no doubt that we are living amidst a truly challenging time! And in the midst of such challenging times, we as Christians and the community of Redeemer will want to challenge ourselves to plan proactively and wisely, even as with Christ's help and the support of each other we deepen our practices of courage and lives of faith-in-action as disciples together.
Details

Written by

Pastor Tobias

Category: Stories
A teenage girl named Mary, learning she is pregnant with God's son; Jesus who is the Messiah, born in a lowly stable in a land under oppressive Roman occupation; Shepherds, low in social stature and Angels singing on high – all of these characters and more are part of the rich layers of a story intended to capture our imaginations, hearts, and lives with its gritty reality and hope-filled narrative each and every time it is told.
Details

Written by

ELCA

Category: Stories
A Movement Led by the Metropolitan New York Synod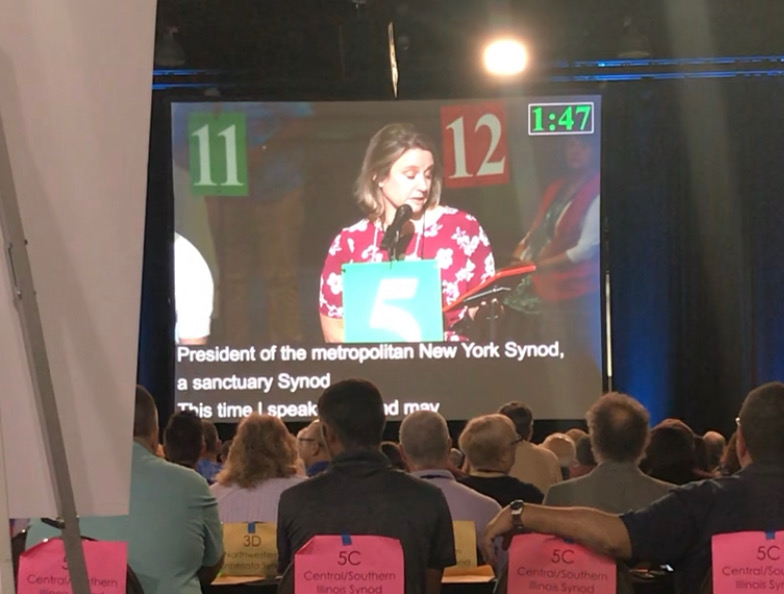 MILWALKEE, August 7, 2019 — The Evangelical Lutheran Church in America (ELCA), today at the 2019 ELCA Churchwide Assembly declared itself a Sanctuary Denomination, dedicated to serving and supporting the protection of migrants in communities nationwide. The ELCA is the first mainstream church body in America to declare itself a sanctuary denomination. The movement was spearheaded by the Metropolitan New York Synod (MNYS), one of the 65 synods of the ELCA.
"Christians have offered sanctuary for two thousand years, continuing an ancient biblical practice in which cities and houses of worship provided refuge and asylum for people fleeing injustice," stated Christopher Vergara, who serves as chairperson of MNYS's AMMPARO/Sanctuary Ministry. "Beginning in the 1980s, the Sanctuary Movement was a faith-based initiative to protect Central American refugees fleeing civil war and seeking safety in the United States. Today, the New Sanctuary Movement is a revived effort to protect undocumented migrants from needless jailing procedures and deportation, and to address the dire situation within the Department of Health and Human Services that has resulted in the stripping of services to refugees and unaccompanied children."
Read more: Evangelical Lutheran Church Declares Itself a Sanctuary Denomination