Details

Written by

Pastor Tobias

Category: Stories
A teenage girl named Mary, learning she is pregnant with God's son; Jesus who is the Messiah, born in a lowly stable in a land under oppressive Roman occupation; Shepherds, low in social stature and Angels singing on high – all of these characters and more are part of the rich layers of a story intended to capture our imaginations, hearts, and lives with its gritty reality and hope-filled narrative each and every time it is told.
Details

Written by

ELCA

Category: Stories
A Movement Led by the Metropolitan New York Synod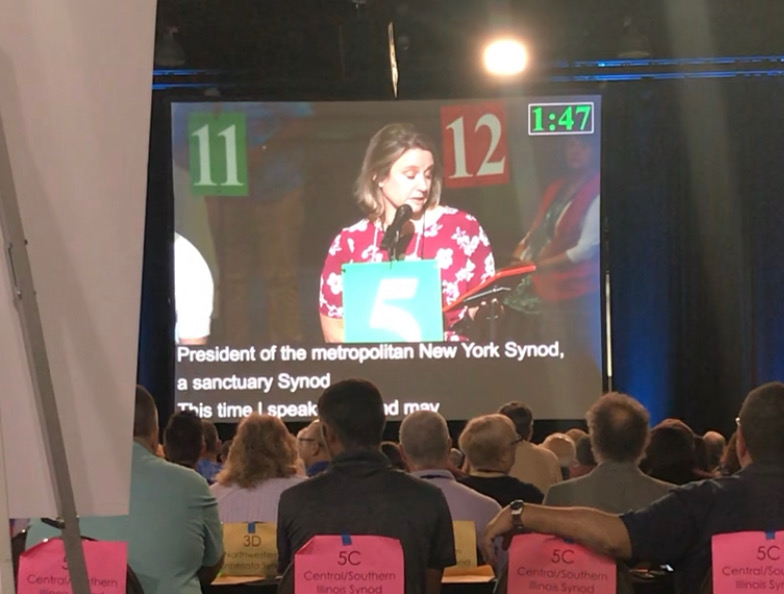 MILWALKEE, August 7, 2019 — The Evangelical Lutheran Church in America (ELCA), today at the 2019 ELCA Churchwide Assembly declared itself a Sanctuary Denomination, dedicated to serving and supporting the protection of migrants in communities nationwide. The ELCA is the first mainstream church body in America to declare itself a sanctuary denomination. The movement was spearheaded by the Metropolitan New York Synod (MNYS), one of the 65 synods of the ELCA.
"Christians have offered sanctuary for two thousand years, continuing an ancient biblical practice in which cities and houses of worship provided refuge and asylum for people fleeing injustice," stated Christopher Vergara, who serves as chairperson of MNYS's AMMPARO/Sanctuary Ministry. "Beginning in the 1980s, the Sanctuary Movement was a faith-based initiative to protect Central American refugees fleeing civil war and seeking safety in the United States. Today, the New Sanctuary Movement is a revived effort to protect undocumented migrants from needless jailing procedures and deportation, and to address the dire situation within the Department of Health and Human Services that has resulted in the stripping of services to refugees and unaccompanied children."
Read more: Evangelical Lutheran Church Declares Itself a Sanctuary Denomination
Details

Written by

Metro-NY Synod

Category: Stories
Answering the call to take care of the stranger among us, the Metropolitan New York Synod declared itself a sanctuary synod and a welcoming synod in the ELCA´'s AMMPARO Network. The word "amparo," in Spanish, means the protection of a living creature from suffering or damage.
The ELCA's strategy to Accompanying Migrant Minors with Protection, Advocacy, Representation and Opportunities (AMMPARO) was envisioned after witnessing the plight of children who were, and continue to be forced to flee their communities because of complex and interrelated reasons, including chronic violence, poverty, environmental displacement and lack of opportunities in El Salvador, Honduras and Guatemala. At its March meeting, the synod council once again answered a call to care for migrant minors in our synod, by establishing our synod's Sanctuary/AMMPARO Ministry.
Details

Written by

Bishop Paul Egensteiner (MNYS)

Category: Stories
Telling people that God loves them is good theology.
Showing people that [God] loves them is what transforms the world.
—Jim Palmer
God be with us as we seek to live out our discipleship in the world.
Last week I attended my first ever Churchwide Assembly, held this year in Milwaukee. It was a first-hand experience of the Church at work. We did a lot of work, some of it difficult, some of it a bit tedious but all of it important.
I could not be more proud of the Metro NY Synod delegation! Among the sixteen of us, there was consistent, outspoken witness for the sake of the poor, the marginalized, the hurting, and the victimized in our society and in our world. Again and again, members of our synod approached the microphone to advocate for justice, rooted in the gospel and our understanding of what it means to be a follower of Jesus. Not only did we speak of God's love, but we sought to show it, and to encourage the entire Evangelical Lutheran Church in America to show it, in order to transform the world.
Read more: Telling People That God Loves Them Is Good Theology
Details

Written by

Redeemer

Category: Stories
Now through the end of May, we will be collecting food items in support of FAMILY of New Paltz's "Summer Snack Project."
Many kids who receive meal support though the school year are left food insecure over the summer, and this project helps address this challenge. Join in us in "Sharing Christ's Welcome" through Redeemer by helping those in need!
Food donations may be dropped off in the Narthex.